Segun Atanda/
A Nigerian-born artist is sharing the limelight with former American President, Barack Obama and his wife, Michelle after painting the official portrait unveiled at the Smithsonian's National Portrait Gallery on Monday.
Forty-one-year-old Kehinde Wiley painted the commissioned portraits of Barack Obama seated in front of an ivy backdrop, while Michelle Obama was painted by Amy Sherald in a pale blue setting. Wiley and Sherald were the first black artists commissioned to paint a presidential couple for the Smithsonian.
"Kehinde was working at a disadvantage," the 44th U.S. president joked at the ceremony. "His subject was less becoming. Not as fly."
"I tried to negotiate less gray hair, but Kehinde's artistic integrity would not allow it," he added. "I tried to negotiate smaller ears, struck out on that again as well."
Obama said Wiley initially wanted to portray him with scepters and chifforobes — possibly even mount him on a horse.
"I had to explain that I've got enough political problems without you making me look like Napoleon," he said. "We've got to bring it down just a touch."
Obama complimented Sherald for her portrait of Michelle.
"I want to thank you for so spectacularly capturing the grace and beauty and intelligence and charm and hotness of the woman that I love," Obama said.
Michelle Obama had nothing but praise for Sherald's process.
"I was blown away by the boldness of Amy's colors," she said. "In the first few seconds of our conversation, I knew she was the one for me."
On Twitter, reactions to the portraits quickly poured in — with a mixture of admiration and mockery.
Obama, who has been critical of some of President Trump's policies and comments, did not mention his successor in his speech — though he seemed to make a veiled reference at the current scandal engulfing the White House.
"We miss you guys," Obama said, turning to some of his former aides in attendance. "We miss the way those who worked with us on this incredible journey carried yourselves."
The Obama portraits unveiled Monday won't be displayed in the White House — they will be on view at the National Portrait Gallery, home to the only other complete collection of presidential portraits.
Here are the portraits of other former American presidents at the National Portrait Gallery:
Ronald Reagan, George Bush Snr, Bill Clinton and George Bush Jnr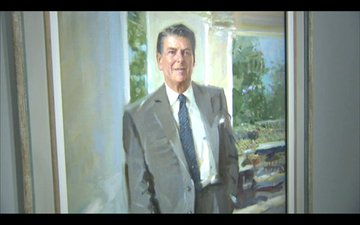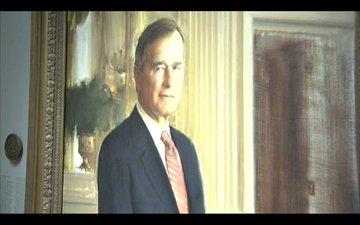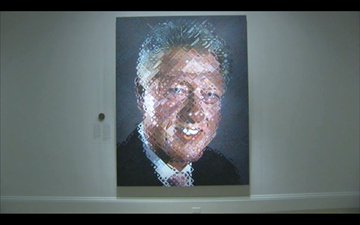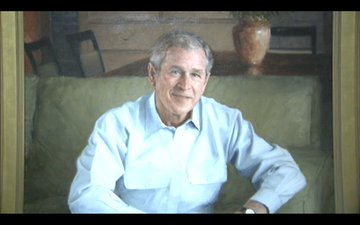 Another portrait of President Obama will eventually be unveiled at the White House, though likely not for a few years. President George W. Bush had his official White House portrait unveiling in May 2012 — late in President Obama's first term.
Wiley, who is based in New York, was born in Los Angeles, California.
According to Wikipedia, his father is Yoruba from Nigeria, and his mother is African-American. As a child, his mother supported his interest in art and enrolled him in after-school art classes. At the age of 12, he spent a short time at an art school in Russia.
Wiley did not grow up with his father, and at the age of 20 traveled to Nigeria to explore his roots and meet him. Wiley earned his BFA from the San Francisco Art Institute in 1999 and his MFA from Yale University, School of Art in 2001.
Amy Sherald, who was born in 1973 at Columbus, in Georgia, according to Wikipedia, is an American painter based in Baltimore, Maryland. Her work started out autobiographical in nature, but has taken on a social context ever since she moved to Baltimore.
She is best known for her portrait paintings that address social justice, as well as her choice of subjects, which are drawn from outside of the art historical narrative. Through her work, she takes a closer look at the way people construct and perform their identities in response to political, social, and cultural expectations.
As a child, Sherald was never surrounded by art because it was never an interest for her family. Her mother only supported art as a summer program and never as a career, until she won the National Gallery Portrait Competition. She studied at the Clark Atlanta University, where she earned her Bachelor of the Arts degree in painting in 1997. After that, she became an apprentice to Dr. Arturo Lindsay, who was an art history professor at Spelman College.
In 1997, she was also a part of the Spelman College International Artist-in-Residence program in Portobelo, Panama. She attended the Maryland Institute College of Art in 2004, where she earned her M.F.A. in painting. After gaining her M.F.A, she lived and studied with painter Odd Nerdrum in Larvik, Norway. In 2008 she attained an artist residency assistant status at the Tong Xion Art Center in Beijing, China.